Britain's business minister's decision to launch an inquiry into tipping abuse by restaurants, including some of the country's best-known and biggest chains, has highlighted the grey area surrounding tipping. Should we leave a tip?
Large breasted women get better tips than smaller breasted women. Surprisingly, at least in the studies I've done, women in their 30s get better tips than either younger or older women.
UK businesses are required to pay their workers, including waiting staff, at least the national minimum wage. Tipping is not expected, but it is usually appreciated and considered a bonus on top of one's wage.
Workers in the United States are not as lucky. For many waiting staff, tips bridge the gap between their meager salary and the state minimum wage.
Some states even have a so-called tip credit which allows restaurants to pay tipped employees as little as 2.13 dollars an hour (1.89 euros) as long as tips bring the employees income up to state minimum wage.
Industry views needed for Government investigation into #tipping in #restaurantshttp://t.co/jCBaHgBQkApic.twitter.com/RIvuZebqWF

— BigHospitality (@BigHospitality) September 1, 2015
Tipping is a custom that is firmly embedded into US culture.
Americans tend to be the most generous tippers. 60 percent of Americans say they always leave a tip on holiday, compared to 49 percent of Germans, 33 percent of Brazilians, 30 percent of Spaniards, 28 percent of Russians, 26 percent of Britons, 15 percent of French people and 11 percent of Italians.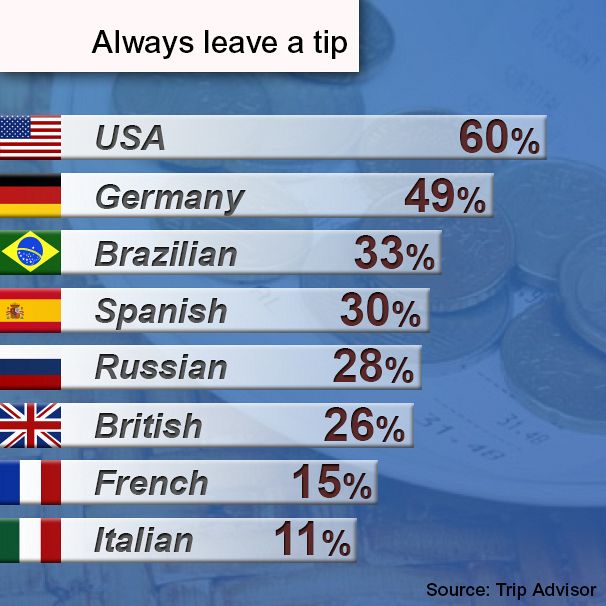 Please do not tip here
In most countries, tipping is voluntary but appreciated. One notable exception is Japan, where it is considered rude
Generally, there is no tipping in China or Singapore, and in Algeria tipping was once considered an insult.
In the countries were tipping is common practice, workers do their utmost to please. But research shows that being helpful and friendly is not all that matters.
"Attractive waitresses get better tips than less attractive waitresses. Men's appearance, not so important," explained Mike Lynn, professor at Cornell Hotel School.
Research on tipping behavior shows that waitresses get better tips from men than from women.
"…blondes get better tips than brunettes," said Lynn. "Slender women get better tips than heavier women. Large breasted women get better tips than smaller breasted women. Surprisingly, at least in the studies I've done, women in their 30s get better tips than either younger or older women."

"Tipping automatically, it's for the birds. As far as I'm concerned, they're just doing their job." Reservoir Dogs pic.twitter.com/G5Wjp7Ti1U

— The Beauty of Cinema (@beautyofcinema) August 29, 2015