Merkel wants common European asylum policy
Comments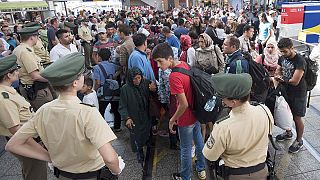 Germany has called for the immediate establishment of a common European asylum policy as thousands of migrants and refugees continue to try and enter the country.
In the face of an unprecedented number of new arrivals, Germany has set up refugee centres across Bavaria to provide basic needs.
With the crisis threatening to spiral out of control within the Schengen area, Chancellor Angela Merkel said refugees from Syria are welcome, but urged the European Commission to come up with new proposals.
"We should now work on a joint asylum policy in Europe, as I've discussed with Spain, instead of accusing each other. Instead, we must change something.
"This includes these so-called hot spots, registration centres, which need to be set up quickly. They must be operated by the EU overall and this includes the safe countries of origin and the possibility to send people back to make clear that economic reasons do not count," Merkel added.
Meanwhile, German police have been stepping up patrols along the southern border to try and catch suspected human traffickers.
Seven people were arrested this morning after a number of Syrian refugees were found in a vehicle.