Syrian regime accused of bombing civilians in Damascus suburb
Comments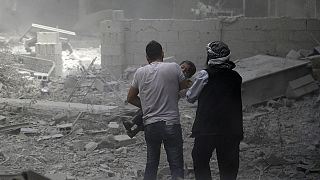 At least ten people have been reported killed and an unknown number injured in shelling and air strikes carried out by Syrian government forces on the Damascus suburb of Saqba.
The city of Douma has also been bombarded with reports of at least five deaths including two children.
The UK-based Syrian Observatory for Human Rights has confirmed warplane activity in the area.
Elsewhere in Syria and a local ceasefire near the Lebanese border and in two villages to the north has broken down. The truce had been in force since Thursday. Talks to evacuate the wounded from all three areas have come to nothing.
It's also been reported that ISIL militants have destroyed part of the Temple of Bel Syria's ancient city of Palmyra.
It's the second Roman-era structure this month to be blown up by ISIL. The group has already detonated explosives in the ancient Baal Shamin temple – an act that cultural agency UNESCO has called a war crime aimed at wiping out a symbol of Syria's diverse cultural heritage.