Austria and Hungary hope arrests will lead to human trafficking ringleaders
Comments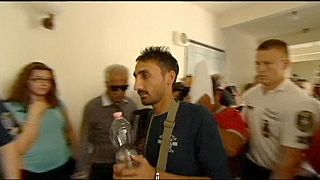 Hungarian police say they have arrested a fifth man, a Bulgarian, in connection with the deaths of 71 people who were found in an abandoned lorry in Austria.
It follows the court appearance of four men in central Hungary on Saturday. The three Bulgarians and one Afghan were ordered to be detained for a month.
Those being held are thought to be minor players in a human trafficking gang whose leaders remain at large.
Austrian police have been examining a second van which was intercepted on Friday. The 26 people found alive inside are thought to have come from Syria, Afghanistan and Bangladesh.
"All of them were in a poor state of health. The police officers realised this. Three small children were in a particularly bad way. Two of them were one year old and the third one was five years old. Professional help was needed immediately and the officers informed the Red Cross," said Austrian police spokesman David Furtner.
The van's Romanian driver was arrested.
The influx of Syrians in Austria this year means the country's largest refugee camp is seriously overcrowded.
The camp at Traiskirchen, near Vienna, was established in the 1950s and received refugees from Hungary, Czech Republic, Slovakia, even Uganda, Iraq and Iran when the countries suffered from civil unrest. It used to be a well managed shelter, however, it has become overburdened in recent months.
The French foreign minister has described as "scandalous" the stance of some eastern European countries towards the refugee crisis, criticising Hungary in particular.
Laurent Fabius said in an interview with Europe 1 radio: "Germany is behaving very courageously, France is by its side, but the whole of Europe must assume their responsibilities."
Hungary, he said, did not "respect the common values of Europe" by erecting barriers at its border.
The British Home Secretary (interior minister) Theresa May said Europe's borderless system was exacerbating a migrant crisis and demanded tighter European Union rules on free movement.
The interior ministers of Britain, France and Germany have called for a summit of European Union interior and justice ministers to be organised in the next few weeks in response to the migration crisis.