Germany: welcoming and rejecting asylum seekers
Comments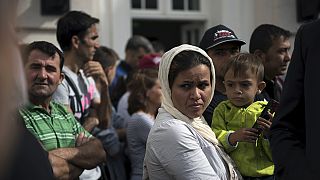 Germany is witnessing mixed reactions to the arrival of thousands of asylum seekers in recent weeks.
In Salzhemmendorf, northwestern Germany, a petrol bomb was thrown through the window of a shelter for the newcomers, starting a small fire, but causing no injuries.
Heidenau in eastern Germany has also seen violent reactions to the arrivals. However this didn't deter dozens of pro-refugee activists from travelling to the city on Friday (August 28) to throw a welcome party.
"It's not acceptable that right-wing radicals determine the agenda," said Cem Özdemir, co-leader of the Green Party. "If people want to hold a welcome event for refugees, the police must ensure people's security."
A week earlier, violent clashes broke out as far-right activists rallied against the temporary housing of migrants in the town. The courts have since banned pro- and anti-refugee demonstrations in Heidenau, but ruled the welcome party could go ahead.