Usain Bolt felled by cameraman on segway
Comments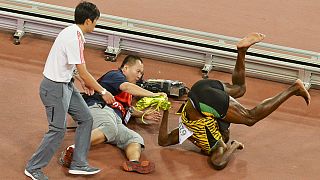 Fresh from his latest Gold-winning performance, sprinter Usain Bolt was cut down to size on Thursday…by a segway-driving cameraman.
The Jamaican sprinter had just won the Mens' 200 metres to add to the 100-metre title he picked up earlier this week at the World Athletics Championships in Beijing.
But on his lap of honour, a cameraman lost control of his segway and ploughed straight into the world's fastest legs.
The incident was without consequence for either cameraman or Bolt, who will have the chance to add to his medal haul in the Mens' 4X100-metre relay at the weekend.
Everything about this Vine is incredible. Glad usainbolt</a> is OK. <a href="https://t.co/ciJlU58yr0">https://t.co/ciJlU58yr0</a></p>&mdash; Andrew Gregory (lunchboxbrain) August 27, 2015