Suspected people traffickers accused of murder - a first in Italian legal history
Comments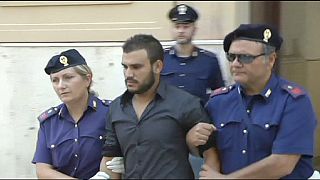 Ten suspected people traffickers have been arrested in Sicily. They are accused of cramming dozens of migrants into the airless hold of a boat where 52 bodies were found this week.
It's the first time in Italian legal history that suspected traffickers face charges of murder.
"The accusations are: favouring illegal immigration and murder," explained Palermo prosecutor Maurizio Scalia. "We charged them with murder because the migrants were locked in a hold 1.5 metres high and four metres long, and furthermore there was also the engine there, in this space."
The people trying to cross the Mediterranean in rickety boats are fleeing war, upheaval and poverty in African and the Middle East. They often the equivalent of pay hundreds of thousands of euros for transport.