Judo World Championships: Emane claims third career world title
Comments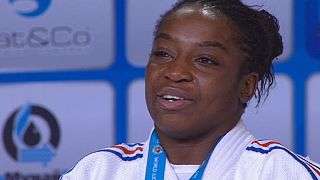 Veteran French judoka Gevrise Emane couldn't stop the tears as she sang her national anthem after winning her third world title.
The 33-year-old proved she remains a force to be reckoned with as she beat Spain`s Maria Bernabeu after just 14 seconds of the under 70 kilo final in Astana.
She scored a stunning ippon — the equivalent to a knock-out in boxing — with a two-sleeved hip throw off her knees (tsuri-komi-goshi).
It was the Four-time European champion's third world gold after winning the same weight class in 2007 and the under 63 kilo title in 2011.
The victory was also France's first gold of these championships.
At the other end of the age spectrum to Emane, Japan's rising star Mami Umeki came through the carnage of a women's under-78kg category that saw former world and Olympic champions tumble early on.
20-year-old Umeki dominated the final against Slovenia's Anamari Velensek and after twice coming close to winning with an armlock eventually pinned her opponent for victory.
The final title of the day went to South Korea's Gwak Dong-han in the men's under-90kg division.
The 23-year-old Asian champion scored a winning half-point waza-ari with a dropping shoulder throw (seoi-nage) to beat Russia's Kirill Denisov.
It was Dong-han's first title on the world stage while it was Denisov's second world final defeat.