Australian Border Force scores 'own goal' over mass visa checks in Melbourne
Comments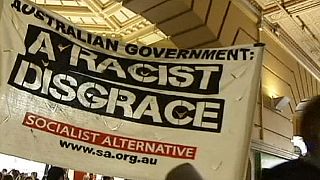 Protesters celebrate the cancellation of mass visa checks in the Australian city of Melbourne.
The Australian Border Force abandoned the controversial operation to randomly stop and check people after hundred showed up at this snap demonstration.
"I find the idea of people going around on the street checking people's papers frankly Orwellian," said one unnamed protester.
"We fought a war against this sort of stuff in 1945," said another.
The hashtag #BorderFarce went viral online after news broke that officers would speak with anyone they crossed paths with.
Protesters say the cancellation of what's been described as an own goal by the Australian Border Force is a victory for people power.
A waste of time & money for one pathetic purpose – to harass & intimidate http://t.co/SNiyPr09Ql#auspol#borderfarcepic.twitter.com/J0pxweUP7m

— MarchAustralia (@MarchAustralia) August 28, 2015