Water stress expected to soar, warns World Resources report
Comments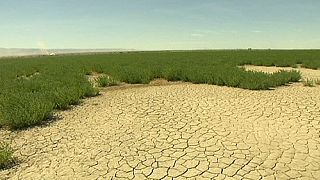 The surging global demand for water will see some 30 countries facing extreme water stress by 2040, according to the latest World Resources Institute report. This threatens to fuel greater instability in areas already torn by conflicts.
Stop attacking water systems. Water should flow for everyone.
In the report, future water stress is ranked using climate and socioeconomic models, taking account of competition and depletion in 167 countries.
In the Middle East the following are considered to have an extremely high stress risk in 25 years time: Bahrain, Kuwait, the Palestinian territories, Qatar, the United Arab Emirates, Israel, Saudi Arabia, Oman and Lebanon.
As the region is already heavily dependent on groundwater and desalinated sea water, some countries may need to reduce their own food production to lower water consumption.
Saudi Arabia has said it will depend 100% on imported grain by next year.
Less water for a growing population means worse instability; this is a significant factor in the decades-old conflict between the Palestinian people and Israel.
In Syria, experts believe that water shortages contributed to the unrest that led to the civil war which began in 2011.
The Red Cross has long condemned intentional restrictions.
ICRC Head of Operations for North Africa and the Middle East Robert Mardini said: "It is high time that parties to the conflict stop attacking water systems or using the access to water as tactics to weaken their enemies or reinforce their hand in negotiations. Water should flow for everyone."
Water shortage will be addressed by world leaders during the United Nations conference on climate change set to take place this November in Paris. Experts are lobbying for a strong international agreement to help protect sustainable water resources.