Deadly spread of Ebola 'could be stopped by end of year'
Comments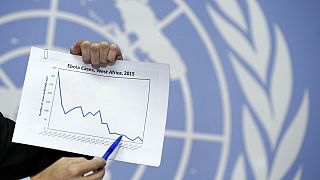 Ebola's devastating grip on West Africa could be lifted by the end of year, according to the World Health Organisation (WHO).
WHO says Guinea is still struggling with the virus but new cases have dropped from 20-30 a week to just two or three.
It comes amid celebrations in Sierra Leone, who reached a major milestone on Monday (August 24) after its last confirmed patient left hospital.
Liberia's Ebola outbreak will officially end next week if no new cases are confirmed, while Sierra Leone will reach the same landmark if it stays clean until October, said Margaret Harris, WHO spokeswoman.
The world's worst-known Ebola epidemic has raged in West Africa for more than 18 months, infecting more than 28,000 people and killing more than a third of them.
Listen to the interview with WHO spokeswoman Margaret Harris

"Sierra Leoneans have deserved a celebration for what they have achieved but they are aware, as are we, that the work is not done yet," said Dr Harris. "As the president put it so nicely: 'Ebola not done yet" and that's exactly right.
"What they are celebrating is a milestone and I think it's very well understood it's a milestone on the road to the end.
"There is still a long way to go and even then the president made it clear there needs to be another three months of high visibility because there's still a lot of Ebola in the region.
Dr Harris said WHO was working towards stopping transmission of Ebola by the end of the year.
"Being totally free of Ebola is a difficult concept in that we have had an enormous outbreak. It's bigger and more complex than we have ever seen before.
---
---
"The virus persists in people's bodies so even though there's no transmission we do know there is still Ebola in the environment.
"Stopping transmission and making sure people are not infected can be done; being absolutely certain that there is no Ebola in the human population is more difficult."
Sierra Leone confirmed its first case in May 2014 and has since recorded the highest number of cases in the region, although neighbouring Liberia has suffered more fatalities.
The country's last confirmed case, Adama Sankoh, 35, responded well to treatment and received her second negative test result on Sunday (August 22) before her release the following day, which was marked by a ceremony attended by President Ernest Bai Koroma.
Medical staff celebrated and Ebola survivors held up signs of praise to Koroma at the International Medical Corps treatment centre in the city of Makeni 140 km (87 miles) east of Freetown.
During the course of the epidemic, the outbreak has ebbed only to flare back again. Liberia was declared Ebola-free in May but a fresh cluster of cases appeared nearly two months later.
---
How Ebola cases have plummeted in West Africa
---
Best of social media
Moment of discharge from ETC. Is AS the final ebola case in Sierra Leone? Countdown to 0+42 starts now. #EndEbolapic.twitter.com/SGKihb6ces

— Charlie Charlie One (@CJIATF) 24 Août 2015
Today is Zero+1. 41 days to #EbolaFree. But still need to rebuild lives, families & communities shattered by ebola. pic.twitter.com/OTzW0ZmdYe

— Charlie Charlie One (@CJIATF) 25 Août 2015
There are now no Ebola positive cases in Sierra Leone. Last patient going home from Mateneh ETC tomorrow @IMC_Worldwide@DFID_UK

— sBill Boyes (@BoyesIMC) 23 Août 2015
A huge thanks to all the #NHSvolunteers & national staff who worked toward #ReachingZero#Ebola in #SierraLeonepic.twitter.com/AxqWddoUgW

— IMC UK (@IMC_UK) 25 Août 2015
Incredible feeling to be leaving SL tomorrow, on the day 0+42 countdown to #zerocases starts. Massive step for Sierra Leone.

— Daniel Cooper (@drdjcooper) 23 Août 2015