Germany embraces Syrian asylum seekers but tensions remain
Comments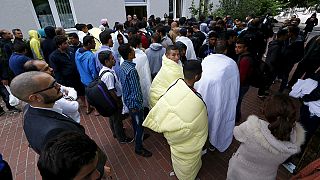 Germany is receiving more asylum seekers than any other EU country, with all the challenges that presents.
One refugee camp in Friedland in Lower Saxony, meant for 700 people, is now housing more than 3,000.
"There is no place to go, no place to sleep," said one young man taking shelter there.
"Yesterday we slept in the restaurant (dining room). Some people slept outside, some people in the corridor. There is simply no place. It is too crowded."
German Interior Minister Thomas de Maiziere visited the Friedland camp on Tuesday as Berlin confirmed that it would handle all Syrians' asylum claims – thus suspending EU rules requiring those seeking refuge to apply in the first member state they enter.
Germany opens its gates to Syrian asylum-seekers, makes Britain look terrible http://t.co/3UXUILqoHipic.twitter.com/lh1ex4cuX6

— The Independent (@Independent) August 25, 2015
Friedland's Mayor Andreas Friedrich told the minister that local people welcomed the new arrivals but urgently want more facilities provided to receive them.
Up to 800,000 people are expected to seek asylum in Germany by the end of the year.
But not everyone is happy at the influx.
Intended as a temporary shelter for asylum seekers, a sports hall in Nauen, west of Berlin, has been destroyed in a suspected arson attack.
A suspicious fire destroyed a building intended to host asylum seekers in Germany http://t.co/nSy3NQuXTPpic.twitter.com/76kPkkpctP

— New York Times Video (@nytvideo) August 25, 2015
Violence targeting migrant shelters has multiplied – notably in Heidenau, near Dresden, where far-right protesters clashed with police at the weekend.
On Monday evening, Merkel described the climate of racism as unacceptable. It was, she said, "repulsive" to see right-wing militants and neo-Nazis express their hatred and disgraceful that other Germans supported it by marching alongside them.
She is to visit the town on Wednesday to meet asylum seekers, volunteers and security forces.
Sigmar Gabriel, the Vice Chancellor in her power-sharing government, has already done so.
His centre-left SPD party has subsequently received threats with racist overtones, with
its headquarters having to be evacuated on Tuesday amid a bomb scare.