German politicians condemn violence against refugee shelters
Comments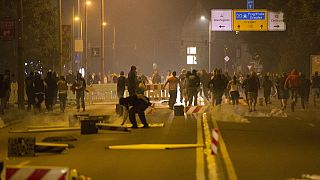 German police have been forced to establish a security zone round a refugee shelter in the town of Heidenau following two nights of clashes.with right wing protesters.
The violence in which at least 30 officers have been hurt has been condemned by politicians as xenophobic.
The police used pepper spray on right-wing demonstrators who were trying to stop asylum seekers reaching their accommodation.
Recently there has been a spate of arson attacks on refugee shelters across the country.
Germany is struggling to cope with a surge in the number of asylum seekers with cities finding it difficult to provide shelter and money to care for the influx.
But reflecting public disquiet Germany's Interior Minister Thomas de Maizière has called for clearer rules on who can or cannot claim asylum.
"We need a European list of so called safe countries of origin. For instance every country which applies to be a member of the European Union should automatically be considered a safe country,and we should also consider some African countries to be considered safe."
Germany, which has relatively liberal asylum laws, expects the number of asylum seekers arriving to quadruple this year to 800,000. While it has taken in people from war zones like Syria there is growing resentment at migrants from eastern Europe.