And also... Drunk soldiers, Cold War spies, Beautiful watermelons and more
Comments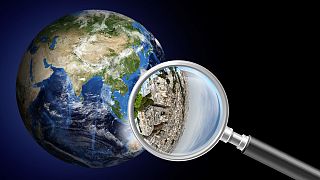 Every Friday journalists from euronews' various language teams choose a selection of stories from Europe and beyond which might not have reached the international headlines.
Our bed and mattress is here because they could cut our watermelons or stab them out of jealousy.
Here's this week's selection… Enjoy!
Germany: Oldest message in a bottle
"A year has passed since I wrote my note," English rock band The Police sang in their chart-topping 1979 hit 'Message in a Bottle.'
But it was a little longer than a year before scientist George Parker Bidder's message was found.
In fact, at at least 109 years old, it's believed to be the oldest message in a bottle ever retrieved.
German holidaymaker Marianne Winkler found the bottle, which turned out to be one of 1,020 Parker Bidder released into the North Sea between 1904 and 1906.
It washed up on the German island of Amrum.
A former president of the UK's Marine Biological Association, the scientist was attempting to track ocean currents and promised a shilling for anyone who returned the message to the Plymouth headquarters of the organisation.
The Marine Biological Association still exists and has promised Winkler a reward for the message's return.
Message in a bottle: received. 109 years later @thembauk - http://t.co/TqxgV0KMDIpic.twitter.com/iRN5nS7ZTs

— euronews (@euronews) August 21, 2015
---
UK: Spy hunting? Look for the guy with the extra pair of gloves
Secret documents have come to light revealing how spies working for the former USSR communicated with each other during the Cold War.
Police notes of interviews with German-born British theoretical physicist Dr Klaus Fuchs have been released. They show he was instructed to arrange meetings by throwing a copy of Men Only magazine over a garden fence.
He was told to carry a tennis ball to ensure his contacts could then identify him. They would be wearing a pair of gloves and carrying another, or be carrying a bundle of books tied together with string.
Fuchs was jailed in the UK in 1950 and returned to Germany upon his release in 1959.
---
Turkey: Watermelons entered in beauty contest
Farmers producing some of Turkey's biggest watermelons are standing guard and keeping a close eye on their crop.
September will see the fruit entered into a special watermelon beauty contest in the southeastern province of Diyarbakır.
Mehmet Kaya has been entering his melons in the contest for 35 years. He explained why he and fellow producers sleep with their fruit.
"Our bed and mattress is here because they could cut our watermelons or stab them out of jealousy," Kaya said as he displayed the field he owns in Erimli village, Sur district. "Therefore we are obliged to stand guard here."
Organised in cooperation with the Food, Agriculture and Livestock Ministry and the local governor's office, the Watermelon and Culture Festival aims to promote watermelon producers, the fruit itself and the city as a whole.
---
Canada: Bear cheek! Bear takes a dip in private pool
A couple living in North Vancouver discovered an uninvited furry visitor making himself at home in their back garden.
After taking a dip in the pool, he had a quick soak in the hot tub before he left.
Don't miss our upcoming videos, subscribe to our YouTube channel here —> YouTube
---
Singapore: Costly error
Singapore's central bank has apologised for misspelling the name of the city-state's first ever president. The mistake was discovered on the packaging of a special currency issue marking the country's 50th year of independence.
Much to the embarrassment of the Monetary Authority of Singapore (MAS), the name of the late president Yusof Ishak was spelt "Yusok Ishak" on the cover folder containing the Sg$50 and Sg$10 commemorative notes.
"This should never have happened, is not acceptable, and I take full responsibility," MAS managing director Ravi Menon said in a statement.
Singapore apologises for misspelling ex-leader's name on historic currency package http://t.co/wt57okaCzOpic.twitter.com/cPqYthpJQG

— Agence France-Presse (@AFP) agosto 21, 2015
---
Russia: What do we do with a drunken soldier?
Russian police have detained two soldiers in the eastern Siberian city of Chita for being drunk in control of an armoured personnel carrier (APC).
The detainees reportedly did not have a licence to drive the vehicle.
"According to eyewitnesses, the vehicle began moving along the highway crossing the path of oncoming traffic and creating an emergency situation on the road," Larisa Ivanova, a spokeswoman for the regional branch of the Russian interior ministry, told TASS news agency.
When the police managed to catch up with the APC, the soldiers would not leave the vehicle voluntarily. The law enforcement officers then had to break a window with a sledgehammer and pull the suspects out.
The two soldiers are expected to be dismissed from the Russian armed forces, TASS reported, citing the press service of the Eastern Military District.
---
Sources