British and French ministers to sign Calais migrant deal
Comments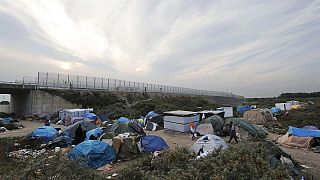 British and French ministers are meeting today to tackle the growing migrant crisis at the port of Calais.
A deal is on the cards to improve security after a Summer of disturbances to road, rail and ferry traffic as migrants attempt to enter the UK.
At least nine people are known to have died trying to make the journey into Britain since June, and at the height of the crisis in late July an estimated 2,000 attempts to break into the port terminal were said to have been made on two successive nights.
But while security is a major concern, for those on the front line problems are more humanitarian.
Francois Guennoc is the founder of the organisation " Migrants' Shelter":
"Someone who requests asylum today is held in this slum for six to eight months. So the longer they're there the more problems there are, material problems, shelter, feeding themselves and so on…"
What I found in the refugee camps of Calais http://t.co/M25i4PKs4qpic.twitter.com/w0DqxMtROL

— Owen Jones (@OwenJones84) August 17, 2015
There are some 3,000 refugees at the Calais camp waiting in hope of crossing the 35 kilometres of the English Channel separating France and Britain.
Ahemed originally comes not far from Nyala in Sudan and like many just want to finish their education:
"I hope if the British government can favour some of the migrants who think they want to come to continue their education at a good level they should make that favour."
It takes up to eight -months to process asylum applications In the meantime many are hoping the ministers will prioritise better shelter, more water points and health care along with their concerns for security.