Ex-Olympic champion Sebastian Coe elected head of world athletics
Comments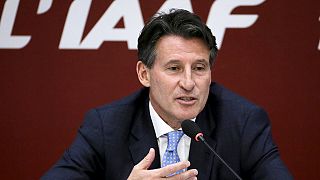 World athletics has a new chief.
Former British Olympic champion Sebastian Coe has been elected as head of the sport's top body the International Association of Athletics Fedrations (IAAF), in the midst of a crisis over doping allegations.
The double 1,500 metres gold medal winner beat former pole vault champion Sergey Bubka of Ukraine by 115 votes to 92 at the IAAF's Congress in Beijing.
Delighted and humbled by the confidence shown in me by the IAAF family – thank you, now the hard work begins

— Seb Coe (@sebcoe) August 19, 2015
Dear friends thanks for support. Remain fully committed 2 #Athletics & iaaforg</a> Congrats <a href="https://twitter.com/sebcoe">sebcoe My statement here http://t.co/TJXf4mbPs7

— Sergey Bubka (@sergey_bubka) August 19, 2015
The international association is accused of failing to combat widespread doping.
Lord Coe, who headed the organisation of the London Olympics, has staunchly defended the IAAF's record.
He has argued that it has led the way on anti-doping measures such as out-of-competition testing and laboratories, introducing blood passports to help weed out cheats.
British and German media reports have alleged an "extraordinary" amount of cheating after examining blood test data.
Coe described the claims as a "declaration of war" on his sport.