Thousands of Peru coca growers hit by anti-cocaine drive
Comments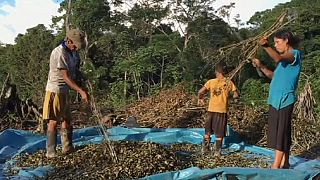 A family of coca growers in Peru try to salvage their damaged crops after their plot was destroyed by a government eradication campaign.
Thousands have lost their livelihoods because of the effort to wipe out cocaine production.
In two years eradication teams have reduced by a third the amount of land planted with coca.
Backed by the US, Peru's government has tripled spending on counter-drug efforts.
Carlos Figueroa, an expert with Peru's counter-drug agency the National Commission for Development and Life without Drugs (DEVIDA), is trying to spearhead efforts to encourage alternatives for farmers.
"We shouldn't forget that in these areas, what is happening is that there is a drug-trafficking operation, we're not saying that the coca growers are drug-traffickers. That's not the case, but drug traffickers use them, drug-traffickers are behind them to draw them towards their chain of criminal production," he said.
The anti-drug operations continue, destroying runways in the jungle used by traffickers.
However there are complaints that thousands of farmers are getting no help or have refused assistance.
Many in the poor Latin American country defend the traditional use of the coca leaf for its medicinal properties.
For more on this story see the full article by the Associated Press.