It's a new kind of attack for Bangkok, says security expert
Comments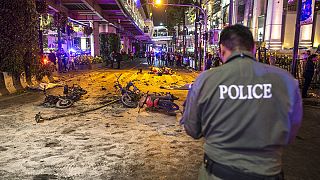 As Thai authorities attempt to identify the group or individual behind the Bangkok bombing, security experts are warning against premature speculation and blame. Matthew Wheeler Southeast Asia analyst for the International Crisis Group says the attack is unprecedented.
"This is a very serious incident. To my knowledge it's the most deadly terrorist attack to have taken place in Bangkok. It is certainly not like politically motivated attacks we've seen in the past which have generally been designed to grab attention but not cause casualties. (…) it's a new kind of attack for Bangkok and it's something that will likely have major ramifications for security in Thailand."
It comes at a time of deep political divisions in the country, because of this Wheeler warned against taking information at face value.
"It's a difficult environment for trying to find the truth in Thailand at the moment. Major institutions in Thailand are politicised, the media is heavily under the thumb of the military government (…) I think we have to take the announcements coming from the authorities with some caution."
Other security experts warn that the junta may use the attack as a pretext for repression.