China: Tributes paid to Tianjin chemical blast victims amid pollution fears
Comments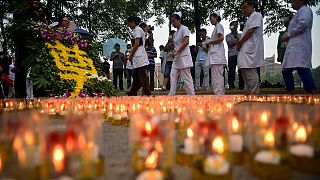 Ships at Tianjin docks sounded their horns, as ceremonies were held in the northeastern Chinese port for the victims of last week's explosions at a chemical warehouse.
It has been revealed that the owners didn't have the necessary permit to store dangerous products until two months before the blasts. The operators of the Tianjin facility had earlier been accused of violating safety procedures.
The government official responsible for work safety had been put under investigation, according to the ruling Communist Party's anti-corruption watchdog.
Investigators have not determined the cause of the explosions.
Residents in Harbour City close to the blast site also paid their respects, amid fears afraid about ground pollution.
"We've told everyone they need to take (basic) safety precautions. For example if they're going back to get possessions from their homes they need to wear long tops and long trousers, hard soled shoes and masks. These basic safety measures need to be taken," said one resident.
There are fears that heavy rain falling on Tianjin could spread some of the vast quantities of hazardous material at the blast site.
Officials say water tested there sometimes contained cyanide levels many times the recommended levels.
"With regards to the safety levels, in total there are 29 cyanide inspection sites. Of them, eight exceeded safety levels. All were within the blast site. The largest reading was 28 times over the safety standard," Bao Jingling, Chief Engineer of the Tianjin Environmental Bureau, told a news conference.
Staff at the hospital where most of the 700 injured are being treated held their own ceremony.
Well over 100 people were killed and another 70 are still missing.
Near the hospital, a protest was held by people demanding compensation from the government.
The recovery of toxic materials from the site began in earnest at the weekend.
On Sunday China's Premier Li Keqiang visited the area meeting victims and environmental monitors as they tried to secure the site.
Officials acknowledged the presence of toxins but claimed they posed no threat to people outside a two-kilometre evacuation zone surrounding the blast area.
Fire crews were criticised for using water to douse the flames which may have contributed to the blasts given the volatile nature of the chemicals involved.
More than 6,000 people have been displaced by the blasts.