Bringing the trolls out of the dark: Russian 'troll' awarded 1 rouble damages
Comments
By
Joanna Gill
with
AFP, New York Times, The Guardian, Institute of Modern Russia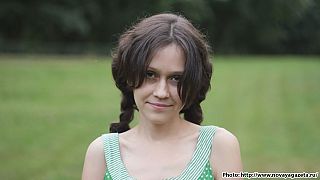 A Russian court has awarded a former employee of an alleged 'pro-Putin propaganda factory' symbolic damages of one rouble (approx 14 euros cents) after she sued her former employer in an attempt to expose them.
Freelance journalist Lyudmila Samchuk, (34), went undercover at the secretive Agency for Internet Studies earlier this year but, according to AFP news agency, was sacked after she published stories under a pseudonym. She sued the company for non-payment of wages and failure to give workers proper contracts.
She had called for the agency to be shut down as well as the damages, but as the case closed, she said she was happy with the result, saying "I achieved my aim, which was to bring the internet trolls out of the shade."
An agency representative said it conducted market research and was not aware of trolling activities. The Kremlin says it has no links with the company.
But what this story reveals is the darker side of internet comments.
What is a troll?
What Is A Troll? https://t.co/nJxwX1Lsn7pic.twitter.com/b5IQGj6eoM

— MB Man (@TheThoughtZone) June 29, 2015
Anyone who has scrolled down an online comments section has probably encountered one.
In the early days of the internet, the word 'troll' became used to describe people in online discussion forums who attempted to derail conversation, or spammed them with indecent images. As the internet evolved, so did trolls who may now take many forms and have many more outlets for spreading misinformation and steering conversations online. And now, it seems, they have become internet mercenaries in cyber propaganda wars.
Inside a troll factory
Samchuk claims that she and hundreds of other employees in the St Petersburg agency were paid to run several social media accounts, flooding the internet with pro-Putin comments as well as doctoring images that ended up on Russian and Western websites.
Quoted in the New York Times, Samchuk said she worked sometimes up to 12 hours a day where she had to meet a certain quota of posts per shift which included five political posts, 10 nonpolitical posts and 150 to 200 comments on other workers' posts.
The allegations of 'industrialised trolling' come as observers say Russia has ramped up its propaganda campaign over tensions in Ukraine.
Post-modern propaganda wars
Russian trolls have received a lot of media attention, especially in light of Samchuk's case. However, other countries have also faced increased scrutiny for policing their online reputation. Tavaana, a civil-society empowerment initiative for the people of Iran found its Facebook page blocked by what they believed was the activity of Iranian internet trolls.
In China, wumao meaning 'fifty cents' has become the shorthand to describe Internet users paid for by the government. According to Foreign Policy quoting a post which went round Weibo, (China's version of Twitter), their posts, "range from questioning another commenter's patriotism — and sometimes insinuating that anyone doubting the party line might be better off Stateside — to asking for patience as China's government continues to push forward reforms."
Western media is not free from the phenomenon. According to a Guardian article from 2011, the US military was developing 'sock puppet software' to create online identities to spread pro-US comments.
For analysts the internet and social media disinformation represents a new front in the propaganda wars. In a report for New York think tank Institute of Modern Russia, journalist Michael Weiss says:
"The weaponization of information, culture and money is a vital part of the Kremlin's hybrid, or non linear, war, which combines the above elements with covert and small-scale military operations. The conflict in Ukraine saw non-linear war in action. Other rising authoritarian states will look to copy Moscow's model of hybrid war—and the West has no institutional or analytical tools to deal with it."
The problem with online trolls, as opposed to other forms of propaganda, is knowing who is being bankrolled by the government and who is simply doing it for the love of their country. This is why Samchuk hopes to eventually shut down the agency she used to work for, because as she said in the New York Times, "Information peace is the start of real peace."
SOURCES:
Foreign Policy
How to Spot a State-Funded Chinese Internet Troll
The interpreter
The Menace of Unreality: How the Kremlin Weaponizes Information, Culture and Money
The Guardian
Woman who sued pro-Putin Russian 'troll factory' gets one rouble in damages
Salutin' Putin: inside a Russian troll house
New York Times
The Agency
Russia Steps Up Propaganda Push With Online 'Kremlin Trolls'
Kommersant
Дмитрий Песков заявил, что Кремль ничего не знает о «фабрике троллей»