Kos: Greece sends cruise ship to help manage migrant numbers
Comments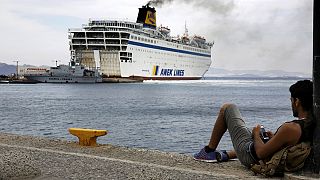 The Venizelos has arrived in Kos.
The Greek government sent the 176-metre-long cruise ship to the eastern Aegean island to act as a temporary registration centre for thousands of stranded migrants.
With hundreds of refugees arriving in Kos every day, the new initiative aims
to help prevent recent, recurring clashes with the police.
"The problem will be solved when the European Union understands that there is a war in Syria and in other countries there are major economic problems," said George Kyritsis, the Mayor of Kos. "And if they don't find a solution for those countries to end the problems over there then we will always have immigration problems in Europe."
People could also be seen queueing to get into a stadium on the island, which is also acting as a reception centre. They are trying to obtain papers to enable them to move around within Greece and elsewhere.
Syrian refughee Naworas said:
"I just want to complete my study. I just want to have (a) life and everybody wants that. They all ran out from the war, from death, so it is normal to see all these scenes, because everybody just wants to live."
Damaged dinghies and flotation devices regularly wash up on the beaches of Kos providing further signs of the increased pressure cash-strapped Greece is under.