Anti-doping analyst hits out at IAAF and Seb Coe over leaked blood data
Comments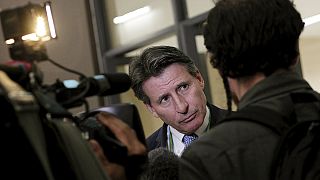 One of the experts brought in by German broadcaster ARD and British newspaper the Sunday Times to analyse leaked IAAF blood data samples accused on Wednesday (August 12) the world athletics federation and Sebastian Coe of lacking the drive to bring meaningful doping change in the sport.
Michael Ashenden was one of two anti-doping experts who examined more than 12,000 blood tests from 5,000 athletes to determine that hundreds of results in the leaked database were suspicious and abnormal.
The IAAF has strongly rejected claims that it does not do enough to clean up the sport, while IAAF presidential candidate Coe said that the allegations were a "declaration of war" against athletics, after calling the pair "so-called experts".
"Does the IAAF pursue its anti-doping mandate with the same single-minded, all-consuming dedication that athletes adopt in their pursuit of winning?" asked Ashenden in the letter to Coe and the IAAF. "Based on what I saw in the leaked database, my view is no."
Ashenden estimated there were "likely to be 500 athletes who cheated, competed, and got away".
"Although you deplore my participation in the revelations by the Sunday Times and ARD/WDR, I maintain that had I walked away from an opportunity to agitate for change then I would have betrayed every voiceless athlete who has been cheated out of podium glory since 2001," Ashenden continued.
"It is clear from the results in the database that serious problems emerged in Russia around 2005."
ARD had in fact also broadcasted in March an investigation which included the testimony of two former analysts of RUSADA, the Russian anti-doping agency, who claimed doping was a widespread practice in Russia and that drug test samples were routinely opened at the border.
"Yet the IAAF chose not to join other sports, such as cycling, cross country skiing, biathlon and speed skating, who had adopted 'no start' rules in an attempt to stem the tide," he said.
The World Anti-Doping Agency has since called for an urgent investigation into the allegations.
The IAAF announced on Tuesday it had suspended 28 athletes, most of whom are either already retired or are serving suspensions, after re-analysing urine samples from the 2005 and 2007 world championships.
The IAAF, however, denied the suspensions had come as a result of increased media scrutiny following ARD and the Sunday Times' reports.
The world athletics body said the 32 adverse drug test findings, which allowed them to issue provisional bans to the 28 athletes, came from a retesting programme which had started in April this year.