A second day of scuffles with police as the Greek island of Kos struggles to cope with hundreds of migrants
Comments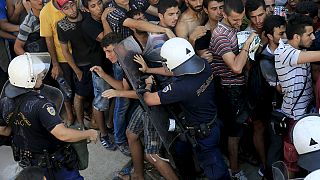 Scuffles broke out between migrants and police on Wednesday on the Greek island of Kos.
We just want these people to start being treated as humans
It was the second consecutive day of clashes at a sports stadium where hundreds of people, including many women and young children, are waiting for immigration papers in scorching temperatures.
"The hot here is very hot and the situation is very bad", said Mohamed Zkia, a migrant from Syria. "Someone feels angry towards someone else, a small problem leads to a bigger problem and that's normal. Anyone in this situation would be angry."
Official documentation allows the migrants to travel on to other destinations within the European Union.
Police struggled to keep order outside a processing office, pushing migrants back into the queue.
Reinforcements have been brought in from Athens and from neighbouring islands.
Some migrants accused the police of using tear gas.
"We expect more responsibility from the local and the central authorities", said Vengalis Orfanoudakis from Medecins Sans Frontieres. " To put some kind of system in place that can guarantee that these people are able to receive food, basic healthcare, shelter, water and protection of their basic human rights. This is not the case here, we just want these people to start being treated as humans."
In #Kos, MSF has been calling on the authorities to treat people with dignity for 8 months. Still they live like this pic.twitter.com/mXkMgg3Ptw

—

MSF

Sea (@MSF_Sea) August 12, 2015
It is problem Greece can ill-afford under its present economic circumstances.
On Monday Brussels announced the release of EU funds to help those countries dealing with migrants.
But despite Greece handling the largest number of people it has not been allocated as much as Spain or Italy.
Greece is to receive 474 million euros compared to 522 for Spain, yet according the EU's external borders agency Frontex, Greece over the past 6 months has had to deal with thirty times as many migrants as Spain.