Ukraine and rebels accuse each other of ceasefire violations
Comments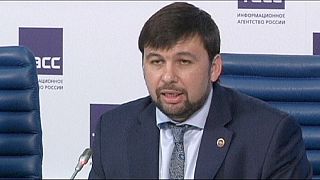 Ukraine and pro-Russian separatists are accusing each other of attempting to break a peace agreement.
It comes after Kyiv's military reported the heaviest rebel artillery attack in six months as well as fresh fighting.
Rebels have accused government troops of increased shelling.
Ukraine's Foreign Minister Pavlo Klimkin said attacks were examples of how the Russian side, along with Donetsk and Luhansk, are trying to derail the implementation of the Minsk agreements.
Monitors have described the recent escalation in separatist eastern regions as "alarming."
One rebel official is warning of the threat of a "big war" if the ceasefire crumbles.
"We unfortunately can see the imitation of the implementation of the Minsk agreements on the part of Kyiv. Unfortunately, we can see provocations," said Denis Pushlin, representative of self-proclaimed Donetsk People's Republic in Minsk contact group.
Russian President Vladimir Putin has been discussing the recent upsurge in fighting with his Security Council. It is blaming Kyiv for shelling civilians as well as monitors.