Stocks fall as China devalues yuan currency for second straight day
Comments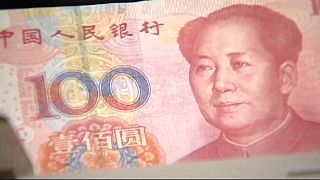 Asian stocks fell on Wednesday after China's central bank devalued the country's yuan currency for the second day running.
On Tuesday, in a surprise move the lender cut its daily reference rate by nearly 2 percent. On Wednesday, the bank moved again – setting the guidance rate for the yuan 1.6 percent lower.
"The devaluation of the yuan is good for our exports," says a trader in Shanghai who gave his surname as Shi.
"But it makes prices higher when we, the people, travel abroad. That is how it is… It is good and bad… It reduces the pressure for our export industries."
Asian stocks and emerging market currencies from Indonesia to Brazil reeled as investors feared central banks around the world could rush to weaken their own currencies in response to China's move – so called 'global currency wars'.
The devaluations have also raised concerns about the slowdown in the world's second-largest economy.
"The problem is we have been used to the RMB, the yuan, being stable," explained independent economist and market strategist Geoff Lewis.
"It is basically a pegged exchange rate still, despite all the talk about widening bands, capital account liberalisation. China has fixed its exchange rate. The US dollar has now strengthened. That has taken China up with it and China has lost competitiveness."
With the yuan falling to a four year low against the dollar, Chinese exporters should get a boost. And the economy needs it amid sluggish growth figures and other disappointing economic data.