Iraq: most far-reaching government reforms since 2003 invasion
Comments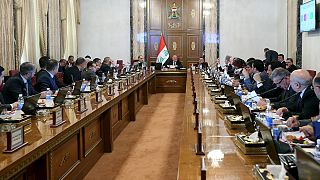 Iraq's parliament has voted unanimously for the biggest shake-up in its government system since the 2003 US invasion.
The decision eliminates entire layers of administration and grants new powers to Prime Minister Haider al-Abadi.
Al Abadi remodela el Gobierno iraquí para combatir la corrupción #Iranhttp://t.co/44HoLS4aEUpic.twitter.com/XhsfqswgDC

— La Verdad Alicante (@laverdad_ali) August 9, 2015
Analysts say Abadi is keen to strengthen his position. Sunni Muslim militants from the group known as Islamic State are in control of large parts of the country.
The collapse in oil prices means an economic crisis is threatening.
What do people think?
"We have heard nothing but promises for the last 13 years," one woman told reporters on the street. "All the promises have turned out to be lies. We get used to them. We have no electricity and no services."
Some think the government only paid attention when people began protesting on the streets;"We want to make sure the change is real and the reform package approved today will be implemented," he added.
High-level pressure for reform
Pressure for reform has also come from Iraq's most influential Shi'ite cleric.
Grand Ayatollah Ali al-Sistani called for action following angry protests over power cuts and mismanagement of services.
Abadi has struggled to build broad support for reform since taking office a year ago.