Heatwave hits Central and Eastern Europe
Comments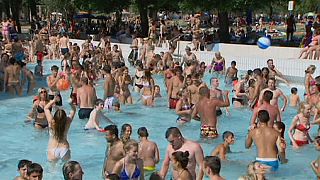 We all love a long, hot summer – apart from when it is too long and too hot.
Try asking the people of Vienna, who are struggling to keep cool after well over a week of temperatures topping 35 degrees Celsius.
Swimming pools in the city may be full but the shopping streets are empty. Bargain-hunting and blazing heat don't mix. Or do they?
"Don't ask me," said one woman in the Austrian capital.
"I love the heat. I sweat like everyone else but I don't care."
Not everyone is coping as well though.
"We have a cellar," another woman said.
"We go down there to sleep."
It is not only human beings that are wilting in Austria. Dry conditions have ruined crops like winemaker Richard Zahel's grapes.
"It hurts my soul when I look at it," he said, standing next to his devastated produce.
"You see all the grapes, dried-up and small with no juice inside. And next to it, another vine plant that is already dead. It makes my heart bleed."
A drought is also causing problems in agricultural areas of southern Poland where crops are bone dry in the blazing heat.
And water is in short supply for some householders, forcing them
to fill buckets at mobile water vans.
The heatwave has also forced Poland to restrict electricity supplies to industry, pushing some firms to limit production.
In Germany, the River Elbe in Dresden has turned into a damp squib with unusually hot temperatures of more than 40 degrees pushing water levels to extreme lows.
It has sunk hopes of this weekend's Steam Boat Parade and river cruises have had to be altered or cancelled.