MH17 crash site debris 'could be from Russian-made missile system'
Comments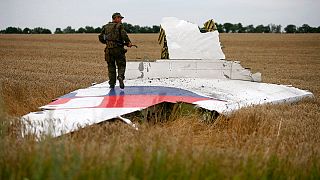 Fragments of debris found at the crash site of Flight MH17 in eastern Ukraine may be from a Russian-made missile system, according to investigators leading an international probe.
Dutch prosecutors say that parts, possibly from a Buk surface-to air-system, are being looked at after being recovered from where the Malaysia Airlines passenger plane was downed in July last year.
All 298 people on board died, most of them from the Netherlands.
"The Joint Investigation Team (JIT) investigates several parts, possibly originating from a Buk surface-air-missile system," a statement from prosecutors said.
"The parts are of particular interest to the criminal investigation as they can possibly provide more information about who was involved in the crash of MH17."
Experts and Western governments have accused pro-Russian rebels of shooting down the plane.
Footage has emerged, apparently showing separatists picking through the wreckage in rebel-held territory.
Russia, which last month vetoed a Dutch-led proposal to establish a
UN tribunal into the disaster, insists that Ukraine's military was to blame.
Prosecutors said on Tuesday they would enlist the help of weapons and forensics experts to establish the origins of the parts.
"The forensic investigation is continuing and we cannot speculate about its eventual outcome," prosecution spokesman Wim de Bruin said.