BES: angry savers clamour for their cash in Portugal
Comments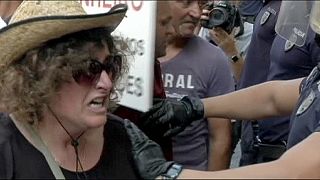 Angry customers clamour to get their savings back from the collapsed Portuguese bank Espirito Santo.
They are not honest people
It is a battle of "Davids versus a Goliath"; individual savers against the national banking system.
Thousands were persuaded to put their savings in toxic investment plans which then failed.
One year after the BES was re-invented via a national bailout, they are still waiting for their lost money to be repaid.
People are angry
"From January until March, they said the problem would be solved," said one man, "they announced on the internet that we would be reimbursed with interest but they have not even given back what they owe us. They are not honest people."
"I don't believe them anymore," a woman added,"my husband believed up until now but I never have."
What happened to
BES

?

Once one of Portugal's biggest lenders, BES collapsed after reporting a record loss in 2014.

The country's fledgling recovery looked threatened and the government came to the rescue.

The sound assets were transferred into Novo Banco as part of a 4.9 billion euro bailout.

But there is still no news of reimbursement for the small investors who were persuaded to part with their hard-earned cash.