Venezuelan opposition hold protestin Caracas against food shortages
Comments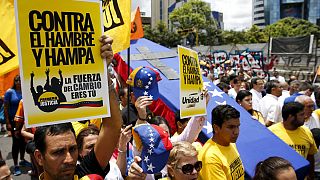 Hundreds of Venezuelan opposition supporters have gathered in Caracas to protest against rising government oppression and violence sparked by endless food lines.
The scrapping of an unpopular rationing system at government-run stores has led to queues of people outside supermarkets across the country.
The demonstration was called following the death of a man in looting in southern Venezuela last week.