Marquez triumphs in Indianapolis
Comments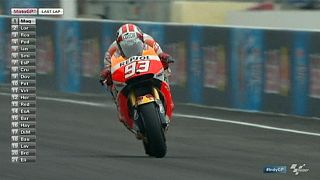 Welcome back to Speed. The MotoGP season resumes after a four-week break with competitors battling it out in Indianapolis. Spanish riders tend to dominate proceedings here as Repsol Honda's Marc Marquez and fellow countryman Jorge Lorenzo started from the front row but were they able to live up to expectations and keep the chasing pack at bay on Sunday? Let's find out.
Hard-fought win
Defending champion Marc Marquez overcame a nervous start to clinch his second successive Grand Prix with victory in the Indianapolis MotoGP.
The 22-year-old Spaniard, who won 13 of 18 races last year, was passed by compatriot Jorge Lorenzo on the opening corner but swept inside his compatriot with less than three laps to go and held on to win by the narrowest of margins.
World Championship points leader Valentino Rossi edged out Dani Pedrosa to complete the podium while Andrea Iannone and Bradley Smith finished fifth and sixth respectively.
Rossi wins maiden Indianapolis Grand Prix
The Indianapolis Motor Speedway has played host to some epic battles over the years despite only joining the MotoGP calendar in 2008. Let's go back in time and relive one of the most memorable track debuts of recent years.
Italy's Valentino Rossi overcame poor weather conditions to claim victory in the first-ever MotoGP race at the Indianapolis Motor Speedway.
The race was cut short by eight laps due to high winds and a soaking track with the Yamaha rider edging out local favourite Nicky Hayden to secure his fourth consecutive victory.
His hat trick of pole position, fastest lap and race victory made for a perfect first Indianapolis Grand Prix for the Italian and a third place for Jorge Lorenzo rounded off an outstanding weekend for the Yamaha Team.
IndyCar vs Moto GP
The Indianapolis circuit boasts over 100 years of racing history but is a relatively new addition to the MotoGP schedule. What better way to promote the sport than to
have an Indy car taking on a MotoGP bike? Let's take a look.
With former MotoGP Champion Nicky Hayden on hand to wave the green and checkered flag, Repsol Honda's Dani Pedrosa took on Marco Andretti in a one-lap race around the Indianapolis Motor Speedway.
Although Hayden declared the race 'a tie', footage clearly showed Pedrosa crossed the finish-line first in this epic showdown of two versus four wheels.
*Speedway Grand Prix of Denmark *
Well that's all we have time for but join us next week for another edition of Speed, where we'll be looking at the MotoGP in the Czech Republic. In the meantime, we leave you with some of the best images from this weekend's Danish Speedway Grand Prix.