Search for MH370 wreckage intensifies at Reunion Island
Comments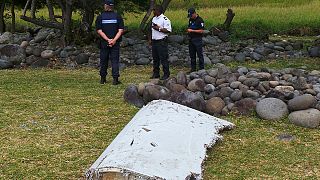 France is extending the search for debris along the coast of its remote island of Reunion in the Indian Ocean after a piece of wing was found there which Malaysia said came from missing Flight MH370.
I want the truth...to know what on earth happened to MH370
While French authorities were not as emphatic, they are devoting additional planes, helicopters, and patrol boats to the area.
The Boeing 777 disappeared on March 8, 2014, en route from Kuala Lumpur to Beijing with 239 people on board.
The majority of passengers were Chinese and there were scuffles on Friday as a group of frustrated relatives staged a protest near the Malaysian Embassy in Beijing.
"Malaysia said it was sure that this debris belongs to MH370 but France did not say it was certain," said Cheng Liping, the wife of a passenger.
"We want the Malaysian government to give us an explanation for this."
"I want the truth…to know what on earth happened to MH370," said the mother of another passenger.
"I want the government to give us something reliable…to convince us because it has been more than 500 days"
The discovery of the piece of wing, known as a flaperon, on a Reunion beach was the first piece of direct evidence that the plane had crashed into the sea.
But distraught family members in China have accused Malaysia of withholding information.
Some refuse to believe that their relatives are dead.
Mixed reports about the discovery of more debris on Thursday have only added to the despair and anger of Chinese families – some of whom now want to go to Reunion to see for themselves.
Chinese MH370 families demand to go to Reunion http://t.co/GFWGaLsE3Npic.twitter.com/hKF9L0vpVg

— NDTV (@ndtv) August 7, 2015
Malaysian Transport Minister Liow Tiong Lai said he understood relatives wanted to know what had happened to their loved ones.
"They're anxious, and we're also looking for answers," Liow told Reuters.
Reunion is about 3,700 kilometres west of the primary search area off the southwest coast of Australia.
Investigators believe that someone may have deliberately switched off the aircraft's transponder, diverted it off course over the Indian Ocean and deliberately crashed the plane into the sea.