Surfing dogs battle it out in California contest
Comments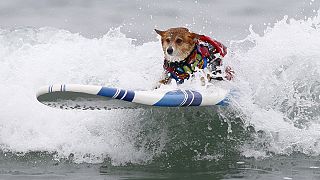 More than 50 canine competitors have been catching waves in California, as part of a dog surfing contest.
The pooches posed on their boards as they battled it out in different heats.
Sandra Lew's dog Kalani came first in one of the categories.
"Really, she does it. It's all her, you saw her balancing on the board, turning 360s, 180s. I didn't teach her that, that's the dog," she said.
James Walls, the owner of another four-legged surfer, added: "Well, for one, my dog loves the water and loves surfing. And two, it's a great cause, money is going towards the San Diego Humane Society."
For those doggy dudes that lost out this time around, there is always next year. The dog surfing contest is an annual event in San Diego.