Israelis against recent violence in region as clashes rage in West Bank
Comments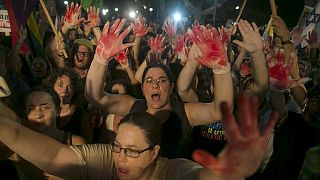 Hundreds of Israelis have gathered across the country to condemn recent violence in the region including the death of a Palestinian infant in an arson attack by suspected Jewish settlers and the stabbing of marchers at a gay pride rally in Jerusalem.
Among those attending the anti-violence rally in Tel Aviv were the uncle of the murdered child.
Yariv Oppenheimer, protester:
"Without ending the occupation, we are going to continue to see this kind of violence between Israelis and Palestinians," explained protester Yariv Oppenheimer. "We will not see a better future for any children in this region," he added.
The demonstrators demanded that the Israeli government to crack down on settler lawlessness in the West Bank.
The leader of the opposition Yitzhag Herzog called on Prime Minister Benjamin Netanyahu to "order internal security, the police and authorities to deal with Jewish terror in the same way that it deals with Islamic terror."
Meanwhile, clashes have raged in the West Bank for another day with
Palestinians protesting since the death of the 18-month toddler in a house fire earlier this week.
The Israeli Prime Minister called the attack an "act of terrorism".
One young man died when he was shot by Israelis soldiers near Ramallah.
The Israeli military said troops fired when the Palestinian youth threw a fire bomb at them.