European Youth Olympic Festival – looking back
Comments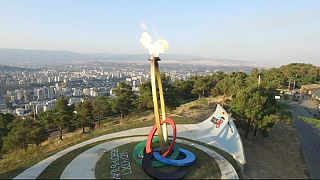 After six days of intense competition, the 13th edition of the European Youth Olympic Festival has drawn to a close in Tbilisi. 50 countries took part and over 3,200 junior athletes competed in 9 disciplines – volleyball, tennis, swimming, cycling, handball, judo, basketball, athletics and gymnastics.
The city's brand new Athletics Stadium welcomed the sports stars of the future for the 2000 meter steeplechase on Day One. Jasmijn Bakker of the Netherlands achieved gold with a time of six minutes and 48 seconds.
Austrian Stefan Schmid triumphed in the boys category while Viivi Lehikanen reigned supreme in the 400m hurdles.
The Finn crossed over in 57.74 seconds to beat the festival's record. Silver medal went to Iman Jean of France as Marie Skjeggestad from Norway took bronze.
In the girls' Pole Vault, two EYOF records were broken as Sweden's Lisa Ulrika Gunnarson cleared 4.15m and Russia's Elizaveta Bondarenko leapt 4.20m.
Daria Skrypnik of Russia lit up the gymnastics arena with gold in the girls' uneven bars discipline. The 14-year-old edged out Belgium's Nina Derwael with compatriot Anastasija Iliankova completing the podium.
Skrypnik collected 6 medals, one more than Britain's Joe Connor Fraser who was the second most decorated athlete in Tbilisi after shining in the Parallel Bars, Rings, Pommel Horse, individual All-round and Team All-round events.
Georgia finished tenth in the overall medal table as the hosts proved unstoppable in Judo.
The home crowd were sent into wild celebrations on Day Four when Mzia Beboshvili took gold in the 52 kilo class, beating Ilse Buren of the Netherlands by ippon.
Local favourite Onise Saneblidze produced a stunning performance to outclass Russia's Aliumer Tumaev in the under 90 kilo final as the European Youth Olympic Festival drew to a close on Saturday.
Georgia ended the six-day event with 10 medals as Russia topped the overall standings with 17 gold, 9 silver and 11 bronze medals, followed by Italy and France.
The 14th edition will take place in Gyor, Hungary from the 22nd till the 29th of July 2017.