China looks skywards with construction of huge telescope
Comments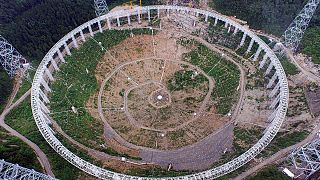 A radio telescope, with a receiving surface the size of 30 football pitches, is being constructed in China.
After five years of work, costing 176 million euros, the equipment is due to be switched on next year.
The site chosen had to be isolated enough to be clear from magnetic disruption and the telescope is built in a natural bowl to help focus the signals it receives.
The most complex aspect of the project is to allow the parts to move to target different spots.
Engineers say it will help scientists to further explore the fundamental laws of the universe.
It is claimed the 500 metre Aperture Spherical Radio Telescope (FAST), bsed in southwest China's Guizhou Province, will be able to conduct deep space exploration.
You can read more about the FAST project here