Ukraine's Constitutional Court approves self-rule plan for troubled east
Comments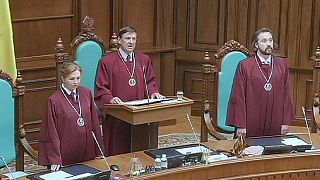 Ukraine's Constitutional Court has given a green light to decentralisation plans that would give more autonomy to separatist regions in the east.
The measure is part of the Minsk peace agreement and is supported by the West which sees it as a way to defuse the armed conflict.
It gives more power to elected bodies in rebel-held parts of the Donetsk and Luhansk regions.
"Ukraine's Constitutional Court has concluded: first that the bill on amending the Ukrainian Constitution, concerning the decentralisation of power complies with Articles 157 and 158 of the Constitution of Ukraine," said Vasyl Bryntsev, Deputy Chairman of the Ukraine's Constitutional Court.
Two weeks ago the measure was submitted to parliament by President Poroshenko, who has now described the Constitutional Court's conclusions as important and life-changing.
MPs voted on July 16 in favour of sending it to the Constitutional Court.
The limited self-rule plan has the backing of the opposition though the governing coalition is divided.
Rebels' demands concerning the actual status of the territories under their control will come later.
Euronews correspondent Dmytro Polonsky reported from Kyiv:
"The self-governing status of the (eastern) Donbas region will be outlined in a separate measure. Members of parliament will be able to vote on these changes in September when a new parliamentary session starts."