France and Russia 'reach Mistral compensation deal'
Comments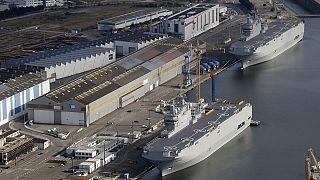 France has agreed a compensation deal with Russia for going back on an order to sell it two Mistral helicopter carriers, according to Russian media reports.
"The talks are already over, everything is already decided – both the timeframe and the sums," Vladimir Kozhin, an adviser to President Vladimir Putin on military matters, told RIA news agency late on Thursday.
"I hope that in the nearest future an agreement will be signed on breaking the contract, and then the sum that France will pay us will be announced," RIA quoted Kozhin as saying.
On Friday, Russian newspaper Kommersant said that Paris would pay Moscow almost 1.2 billion euros.
French President Francois Hollande has come under pressure from his Western allies not to deliver the Mistrals because of Russia's role in the Ukraine crisis.
Earlier this week he said that discussions about the warships were continuing.