Cecil the Lion: Zimbabwe calls for extradition of killer US dentist
Comments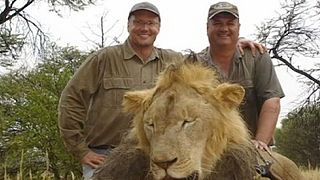 Pressure is mounting for the extradition to Zimbabwe of the American dentist who killed Cecil the Lion.
As protesters and petitions demand action, Zimbabwe's Environment
Minister Oppah Muchinguri called Walter Palmer, 55, a "foreign poacher" who paid for an illegal hunt.
Muchinguri said the Prosecutor General had already started the process to have Palmer extradited from the United States.
"The illegal killing was deliberate," she said at a news conference. "We are appealing to the responsible authorities for his extradition to Zimbabwe so that he can be held accountable for his illegal actions."
Palmer has admitted killing the 13-year-old lion, who was fitted with a GPS collar as part of an Oxford University study.
He said in a statement issued by a publicist this week that he had hired professional guides and believed the necessary hunting permits were in order.
Cecil's death has sparked global outrage, with intense social media reaction against Palmer, protests outside his practice, and calls for him to be extradited.
The White House said on Thursday it would review a public petition with more than 100,000 signatures demanding Palmer's extradition.
More than 160,000 people have signed a petition to extradite Walter Palmer http://t.co/isGc7WJn3qpic.twitter.com/N358WAtvLb

— The Independent (@Independent) July 31, 2015
The Minnesota dentist and trophy hunter has not been seen since his identity was revealed this week by Zimbabwean conservationists.