Beijing to use artificial snow in 2022 winter Olympics
Comments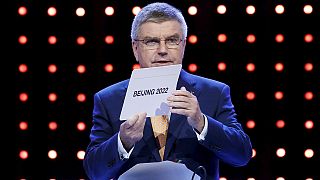 The Chinese capital Beijing will host the 2022 Winter Olympics.
Although the snow will be man-made, the country's president Xi Jinpin promises an "excellent and extraordinary Games."
Beijing's mayor said it's the first time that one city will host both a summer and a winter Olympics.
"In 120 years of Olympics history, our country … has hosted only one edition. So, It's highly necessary, significant and important for us to host the Winter Olympics."
The Kazakh city of Almaty, which was also in the running, used its bid to get a dig at Beijing's reliance on artificial snow. It's motto was "keeping it real."
"Our bid was perfect," said Andrey Kryukov, Almaty bid committe spokesman. "Again I tell you, our job is finished after the final presentation. Not we decide and the decision had been done by IOC. That's why you can see this is a competition. Somebody win, somebody lose."
Higher, Faster, Stronger
Human Rights Watch (HRW), which was highly critical of both China and Kazakhstan during the bid process, was quick to voice its displeasure.
"The Olympic motto of 'higher, faster, and stronger' is a perfect description of the Chinese government's assault on civil society: more peaceful activists detained in record time, subject to far harsher treatment," HRW's China director Sophie Richardson said in a statement.
The Games body has been criticised by human rights groups for years, most notably after awarding the 2008 Summer Games to Beijing and the 2014 Winter Games to Sochi.
It has since added anti-discrimination clauses to the host city contract.
IOC president Thomas Bach had said on Thursday the committee had been speaking to a wide range of groups, including Human Rights Watch, but that outside the context of the Games, the IOC had to respect the laws of sovereign states.
"With our Olympic values of tolerance, respect, excellence, non-discrimination, we send a strong message to the world – the strong message spread by the athletes living together in the Olympic Village in a community where all people are equal."
China has long argued that it is unfairly singled out for criticism of its rights record and says other governments should examine their own records before making accusations.
The Beijing 2022 bid committee did not immediately respond to a request for comment, but said this week sport should be kept separate from politics.
China's Foreign Ministry also did not immediately respond to a request for comment.