Beijing to host 2022 Winter Olympics
Comments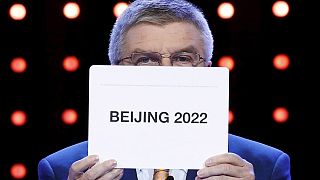 The host city of the 2022 winter Olympics has been announced.
Beijing was awarded the games just seven years after hosting the summer Olympics in 2008.
The Chinese capital is the first city to host both summer and winter Olympics.
The four European candidate, including winter sports venues Stockholm and Oslo, all dropped out of the running because of financial concerns.
Beijing becomes first city to host both a Winter & Summer Games http://t.co/FcWyVeTXCkpic.twitter.com/FBjtvEEA2l

— CP24 (@CP24) July 31, 2015
Beijing will rely almost exclusively on artificial snow during the winter games.
Analysts say the city offers a solid option during tough economic times with many of its venues ready.
The International Olympic Committee said the city's contract would ensure human rights protection, freedom of reporting, and non-discrimination during the sixteen days of the games.
The 2022 Winter Youth Olympic Games will take place in the Swiss City of Lausanne.