Orthodox Jew 'repeats' Jerusalem Gay Pride stabbing attack
Comments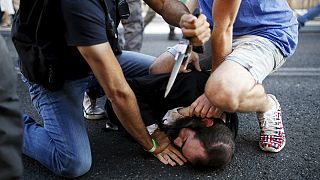 Six people at Jerusalem's annual Gay Pride have been stabbed, reportedly by an Orthodox Jewish man who police say had launched a similar attack on the parade ten years ago.
The suspect, identified as Yishai Schlissel, had only been released from prison a few weeks ago after serving a 10-year sentence for attempted murder and aggravated assault.
Health authorities said a woman was critically injured, while five others suffered lesser wounds in the attack.
Witnesses described seeing an ultra-Orthodox man jump into the crowd, screaming as he plunged his knife into people at random.
The suspect was wrestled to the ground by police and taken away in a van.
Prime Minister Benjamin Netanyahu called it a "despicable hate crime". Other political leaders also condemned the attack.
In Israel, everyone, including the LGBT community, has the right to live in peace, and we will defend that right. pic.twitter.com/H2fex3edfC

— Benjamin Netanyahu (@netanyahu) July 30, 2015
Yishai Schlissel stabbed three people at the 2005 Gay Pride. Since his release from jail he is said to have campaigned in his home town to stop this year's parade in Jerusalem.
Local police in Judea and Samaria reportedly said they were not supposed to track him as his crime had been committed in Jerusalem, a different police district.
Organisers decided to continue the parade, long a focus of tension with religious groups including the ultra-Orthodox Jewish minority.
Right-wing activists had been given permission to protest against the event but were kept away from the estimated 5,000 marchers.
"Homophobia is rooted in the city, but that`s the point of the parade, the march. We are trying to change that. And hopefully we will change that. It takes one man to create a scene like this. Hopefully he`s a minority," said 21-year-old Benny Zupick who took part in the parade.
A similar Gay Pride event in June in the more gay-friendly city of Tel Aviv passed off peacefully.
The country's LGBT task force said it was shocked that such serious violent incidents could still happen in Israel in 2015.