Zion Harvey, 8, becomes youngest ever to receive double hand transplant
Comments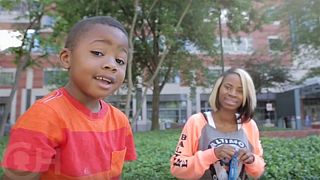 American boy Zion Harvey has made history by becoming the first ever child to receive a double-hand transplant.
He lost his hands and both feet due to an infectious disease when he was two years old.
The eight-year-old from Baltimore, Maryland, was operated on in the Children's Hospital of Philadelphia by a team of 40 medical practitioners, led by Doctor L. Scott Levin.
"When I met Zion, I said to him – and I didn't know what the response would be . 'Why do you want hands?' Eight-year-old, I'm figuring what kind of response would he give me? He said 'I want to climb on the monkey bars,'" he told a packed hall.
Against the odds, a donor was found quickly and doctors have hailed the operation as a medical breakthrough. Only a dozen or so potential donors become available every year. It's hoped Zion will be able to use his hands in eight months – the time it will take for the nerves in his fingers to regenerate.
Zion, who is believed to be the youngest person ever to have received the surgery, said he wouldn't have minded if the surgery hadn't been successful.
"If it didn't go well, I would have, I would have my family to fall back on."
He will have to take immune-suppressing drugs for a lifetime, to ensure his body doesn't reject the new limbs.
Doctors say the surgery is highly likely to be the start of further use of transplant surgery for children.