Syria: counting the humanitarian cost
Comments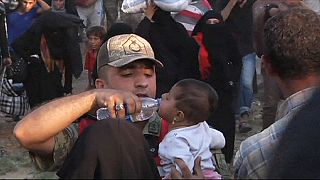 Conflict monitors say insurgents are engaged in a major offensive on government-held areas in the north west of Syria.
The push comes as reports suggest Syrian government forces and Kurdish militia are making gains in the east of the country.
Sources say the insurgents' aim is to advance towards the western coastal stronghold of President Bashar al-Assad.
Fighters from the self-titled Islamic State group, meanwhile, have been driven out of Hasaka in the east.
The city is the capital of a strategically-important province bordering Iraq.
Syrian forces, #Kurds push #ISIS out of Hasaka city – monitor http://t.co/KW22yqP89Qpic.twitter.com/45DIcmzseU

— Alwasat (@alwasatengnews) 28 Juillet 2015
Counting the humanitarian cost
In New York, the talking continues.
Ahead of a visit to Damascus next month, the UN's head of Humanitarian Operations wants aid workers to be given more access to those in need.
We must show #Syria's people the world hasn't forgotten them. I urge the UN</a> Security Council to consider its options through their eyes</p>&mdash; Stephen O&#39;Brien (UNReliefChief) 28 Juillet 2015
Stephen O'Brien told delegates he is shocked and outraged. "Syria today, amongst sadly and appallingly an enlarging pool of humanitarian need and human misery across the many parts of the world, but notably in this region, is the most acute, unrelenting and shameful blot on the world's humanitarian conscience."
The flow of refugees
#Offtopic Συγκλονιστικές φωτογραφίες. Syrian Refugees Crash Through Turkish Border Fence http://t.co/F5SVIA2Eqc

— Flying Dervish (@fly_dervish) 1 Juillet 2015
The flow of refugees continues at the Turkish border.
Hundreds gathered at a crossing point at Alkacale on Sunday.
Fleeing fighting on the Syrian side, they were met by Turkish military forces who prevented them from going further into the country.