UN refugee chief: 15 million displaced from Syria and Iraq
Comments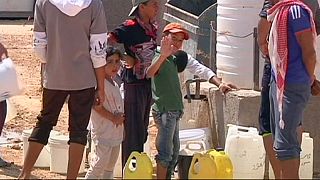 The United Nations refugee chief said on Saturday the growing humanitarian crises in Syria and Iraq were leaving aid agencies struggling to deliver vital supplies.
Antonio Guterres spoke on the sidelines of a World Economic Forum event in Jordan.
"I think that there is no perfect conscience in the world of the drama we are facing. We have now almost 4 million Syrian refugees but if you take Syria and Iraq altogether the number of displaced people is almost 15 million people and many of those displaced live in absolute misery," said the former Portuguese prime minister.
Camps like Zaatari in Jordan which were meant to be short-term solutions are turning into permanent homes for those fleeing the fighting.
One refugee, Abu Eissa, explained:"Our main problems are electricity and water, God bless them. Electricity has been out for five or six months. There are sandstorms and some people have asthma from the very dusty climate. People's lives are in danger."
Portugal's former PM António Guterres says refugee crisis "one of most dramatic situations you can imagine" #WEFhttp://t.co/Z0CbsUszAw??

— Al Arabiya English (@AlArabiya_Eng) May 23, 2015
The sheer scale of the crisis is testing the generosity of neighbouring countries who are hosting millions of refugees, while resentment from local residents grows.
Friday football in one of the streets in ZaatariCamp</a>. Early morning kick off before it gets too hot <a href="http://t.co/rTZu9Cg1TQ">pic.twitter.com/rTZu9Cg1TQ</a></p>&mdash; Nasser Touaibia (NasserTouaibia) May 22, 2015