Platini to stand for FIFA presidency
Comments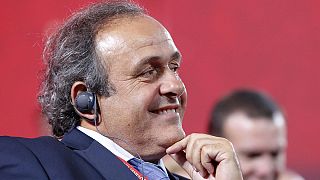 Michel Platini has announced he will stand for the Presidency of football's world governing body FIFA.
The current UEFA chief confirmed on Wednesday that he wants to succeed 79-year-old Sepp Blatter when the elections take place on 26 February.
The Former France international has been head of European football's governing body since 2007 and a FIFA executive committee member since 2002.
It is believed Platini has the backing of four of the six continental federations making him the front runner to be elected into world football's most powerful job.
Blatter meanwhile has been in charge of FIFA since 1998.
But in May the Swiss announced that he would stand down – only four days after being re-elected to a fifth term in office.
That decision came amid the worst corruption crisis in FIFA's history that saw several top officials arrested on racketeering and bribery charges.