NATO backs Turkey in its fight against militants in Syria and Iraq
Comments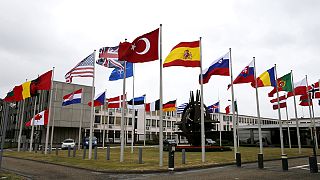 NATO gave Turkey its full support in fighting militants in Syria and in Iraq at Tuesday's emergency meeting in Brussels.
After a 90-minute discussion the country won the backing it sought in stepping up its role in the US-led fight against ISIL with airstrikes .
NATO chief Jens Stoltenberg confirmed Turkey had not requested extra military help.
However several nations urged Ankara to use proportionate force against the PKK.
Ethnic Kurds living in southeast Turkey are dismayed at the military offensive and are concerned about the fallout::
"With regards to this region, the NATO meeting means nothing. People will continue to die, civilians will be murdered. If the military operations continue, this region will suffer even more. This region needs peace, not war," said Ekrem Kaya living in Diyarbakir.
Mehmet Geylani who is also an ethnic Kurd said: "I don't think these military operations are for the good of Turkey as a whole. I don't think NATO will bring peace and prosperity by taking this position. and supporting our president.
If so, this region's people would have seen peace and prosperity long before now."
Some NATO members have expressed concern that the Turkish offensive against the PKK will end any hope of a fragile peace process with Kurdish separatists and have urged Ankara not to give up on the talks..
So far those negotiations have entailed giving Turkey's own Kurdish population more cultural rights with the prospect of great autonomy in the southeastern region where they constitute a majority.