Turkey and the US plan 'ISIL-free' buffer zone in northern Syria
Comments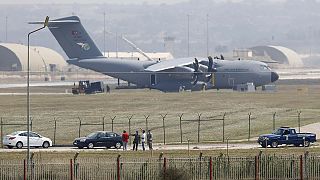 Turkey's military operations are continuing on two fronts – Syria and Iraq – as the country says it is protecting its borders.
Having long called for, but failed to get, a no-fly zone over northern Syria, Turkey is now said to be working with the United States on plans to clear the same area of ISIL militants.
ISIL-free buffer zone
Turkey's Prime Minister Ahmet Davutoglu,said in a televised interview that he wants to create a buffer zone by boosting air coverage support for Syria's moderate rebels.
"(The goal is) to reinforce the moderate opposition elements from the existing 'train and equip' programme as well as Free Syrian Army elements; and to reach an arrangement whereby the moderate elements can regain control of areas from ISIL that is by providing 'air cover', or aerial security. Without aerial support It would be impossible for them to take control of the region."
Battle against terrorism
Along side its action in Syria, Turkish fighter planes are targeting Kurdish insurgent camps in Iraq in what the government says is a "full-fledged battle against all terrorist organisations".
On Sunday four Turkish F-16 fighter jets deployed from Diyarbakir air base in the country's mainly Kurdish south east and hit Kurdistan Workers Party (PKK) targets in Hakurk in northern Iraq. Ankara blames PKK militants for the deaths of two of its soldiers.
The renewed military campaign against the PKK, which has waged a three-decade insurgency against the Turkish state partly from camps in northern Iraq, has raised suspicions that Turkey's real agenda is checking Kurdish territorial ambitions rather than fighting ISIL.
Ankara is meeting NATO allies in Brussels today (July 28) to discuss the current security situation.