Kurdish women fighting ISIL on the frontline
Comments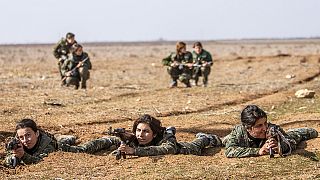 On the frontline between Kurdish fighters and Islamic State militants, a group of young women have mobilised.
They have left their homes and dreams behind to fight on the frontline. The women say they felt compelled to join the battles with men in order to protect their land. They call themselves the women defenders, or the YPJ (pron: Yuh-pah-Juy); pro-Kurdish Yekineyen Parastina Jin
17-year-old Dilbreen says she signed up to help liberate the country.
"I joined YPJ voluntarily. I joined them to defend the Kurds, the Arabs, the Christians, and all nationals. I will defend my country and all those who are fighting for it," explained Dilbreen.
The women feel no different from the men fighters. However they believe that while men rely more on their physical strength, they use cunning, stealth and patience to get results.
One YPJ commander, Çiçek told euronews: "The male fighter fights physically, while the woman fights with her mind. The woman knows when to use weapons, and naturally she is a hater of war violence. However, we are forced to defend ourselves. We were raised on such thoughts."
According to the Syrian Observatory for Human Rights, the Popular Protection Units (YPG) have seen their numbers swell of late with new recruits coming from Europe, Australia and the United States to join the battle.