Croatia: Former PM Sanader granted retrial on corruption charges
Comments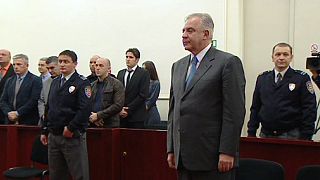 Croatia's Constitutional Court has ordered a retrial of former Prime Minister Ivo Sanader after he successfully appealed against a guilty verdict handed down on corruption charges.
Sanader, prime minister from 2004 to 2009, had been convicted of taking a bribe from the Hungarian oil group MOL in 2008 to allow it to take a dominant stake in Croatia's biggest utility, the oil firm INA, and also of taking a bribe from Austria's Hypo Bank in 1994 and 1995, when he was deputy foreign minister.
Last year, Croatia's Supreme Court confirmed the guilty verdicts but cut Sanader's overall prison sentence to eight and a half years.
But in a decision published on its website on Monday, the Constitutional Court said it had upheld appeals in both cases, arguing that procedural errors had deprived Sanader of fair treatment.
Tackling corruption was crucial to Croatia's efforts to join the EU, which it did in 2013. Sanader has always denied any wrongdoing.